Resilient growth marketing is as much about creativity as a mission and data-driven strategy. Finding and applying ideas for your business can bring you one step closer to reaching your business goals. And in this article we'd like to focus on customer-first approach to business. 
So, let's put the spotlight on a bridal line, Revelry.
Bridesmaid gowns are well-known for being less-than-stellar dresses. Only a few lucky ladies would wear them more than once. According to the founder, Michelle DeLoach, you usually have two choices: opt for the pricey bridal boutique piece or go for a cheap yet ill-fitting gown. Revelry bridges the gap between style and value with beautiful dresses that customers of all sizes and ages would love to wear over and over again!
Even better, Revelry turns online shopping into an exciting experience with emotional pay-off beyond the big day. Here's why Revelry stands out as a resilient brand.
A customer-first approach, with their "Try at Home" feature
Selecting formalwear has plenty of challenges. It costs a pretty penny, and you want to get the size and model right, and Revelry has a clear understanding of these pain points. With their "Try At Home" feature, customers can fit dresses before they commit. Return rates are a considerable concern for apparel brands. Revelry anticipates these with their own spin on "try before you buy."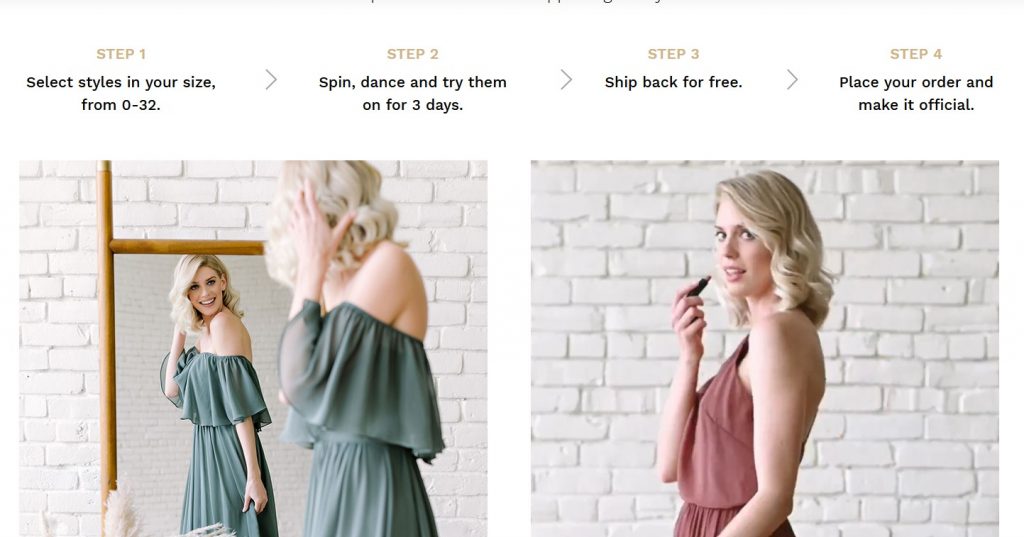 First, customers can try several products at a fraction of the product cost. This minimizes the risk for them. This discounted trial is quite common in the software and service industry. Tailoring it for retail, Revelry employs a fresh and innovative approach in the bridal space, where impeccable fit and style are a must. Besides, having tried and loved the merchandise, customers tend to keep it. This reduces refund rates on full-priced orders.
The "try before you buy" approach has already seen success among bigger e-commerce brands. For example, Asos has seen a 23% increase in sales with this strategy, making it definitely worth considering.  
How you can do this and take it up a notch:
Allowing customers to "try before you buy" can be very strategic for high-value products. Think about how you can integrate this into your pricing strategy. You can also experiment with offering sample fees as credits on a full-priced product.
This does two things: increase the likelihood of purchasing full-price and the possibility of raising the full price.
And people love sampling! This is good news for you if you want to reduce, if not eliminate refund claims.
A Customer-Centered Approach to product marketing
Using a reviews widget, customer feedback accompanies each product page on Revelry's website. This widget also allows uploading of photos showcasing real girls wearing Revelry. The brand also provides customers the option to streamline their shopping with styles based on user-submitted photos on their home page and blog!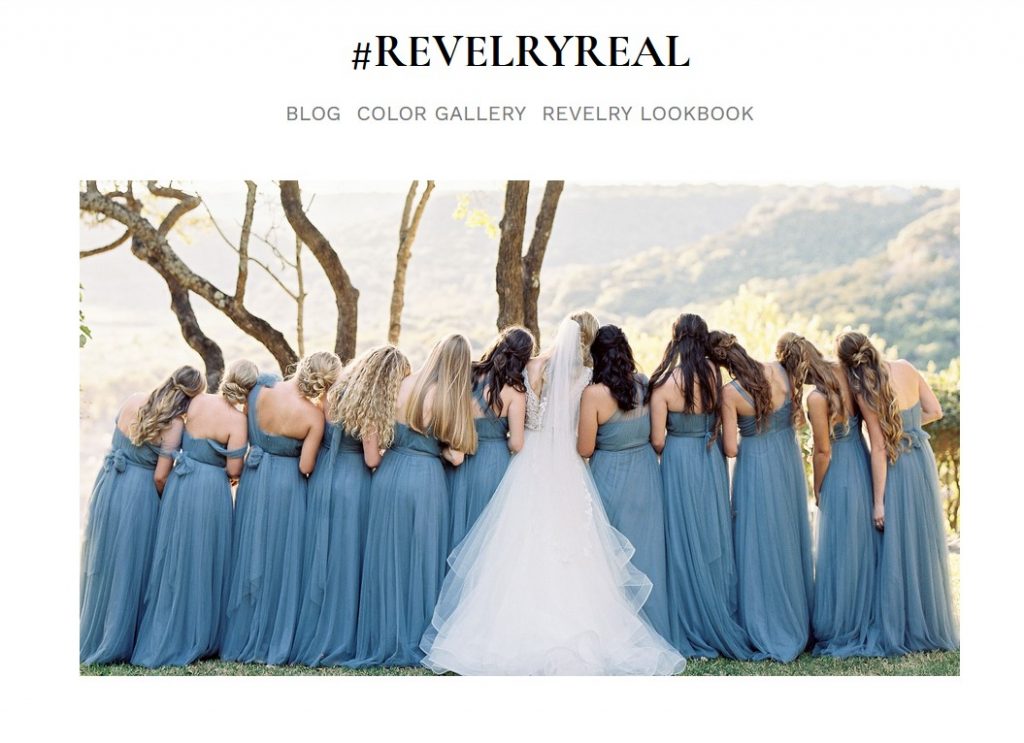 User-generated stories are an effective way to boost conversion by up to 69%. When paired with photos, these stories tell a complete tale of customer love—and who doesn't love a great story?
The more you encourage and promote these, the more people will contribute to your brand narrative, and the more social proof you'll get. Think of this as an endless cycle of publicity, word-of-mouth, and done-for-you content!
How you can use it in your strategy:
Revelry does a fabulous job of featuring customer stories on the most important website pages. People take lots of photos at weddings also helps a lot.
The very nature of their product fits well with storytelling. These reviews are very likely to crystallize into a very organic content strategy. If your product isn't the type that gets photographed often, you can still use storytelling. You can incentivize the submission of reviews, stories, and photos with discounts or freebies.
The results? A stream of user-generated content and potential repeat orders!
Revelry's narrative is a union of customer stories, each a treasured moment that the brand has helped create. With its customer-centric approach, Revelry infuses the product experience with emotional value. And they start by making the customer feel nothing less than beautiful. Strategies like these bring your brand closer to people's hearts. And the good news is that there's no limit to improving on it to boost brand resilience.
Uncovering unique opportunities like these are at the core of our work at Insights Lab. If you are looking to grow your business while creating unforgettable experiences for your customers, we are just one message away!
Revelry's narrative is an amalgamation of customer stories, each one a treasured moment in which the brand has participated. With its customer-centric approach, Revelry imbibes the product experience with emotional value, beginning with making a customer feel nothing less than beautiful. Strategies like these bring your brand closer to people's hearts and even better, there's no limit to improving on it to boost brand resilience.