What is the first thing that comes to mind when you hear of "resilient growth marketing"? Probably "What? What is that?" and you are not the only one. While the idea of creating a business that is resilient in the long term isn't new, the term "resilient growth marketing" is still pretty new to the entrepreneurial community. So let's have a closer look at it.
You might have come across the concept of growth marketing before. In short, growth marketing is a long-term strategy that uses experiments to gather data. This data helps entrepreneurs and marketers find insights, optimize the process, and create a loyal and engaged customer base.
Growth marketing improves brand awareness, lead acquisition, retention, revenue generation, and customer relationships. At Insights Lab, we rely on it to drive rapid, sustainable growth beyond the marketing funnel's top. So why should you care about it too?
What is resilient growth marketing?
Of course, resilient growth marketing isn't a solution for all the challenges that your business might encounter out there. However, it creates a strong foundation for your brand to support sustainable growth in the long perspective. This is right, and unlike growth hacking, resilient growth marketing doesn't focus on quick wins – it builds lasting brands that will be here even after 100 years.
This strategy creates a strong foundation and aligns your capabilities with your long-term goals. It helps you make sure you have the right people, processes, and tools in place for the right reason. And this, in turn, fuels scaling.
With a resilient growth marketing strategy, you're never guessing in the dark. You learn what you are doing and, more importantly, why. You use data to inform the best course of action that ensures your business' continuous growth, in line with your goals and mission.
Sounds good, right? If you want to get the most out of resilient growth marketing, you can use this framework that relies on these five fundamental aspects.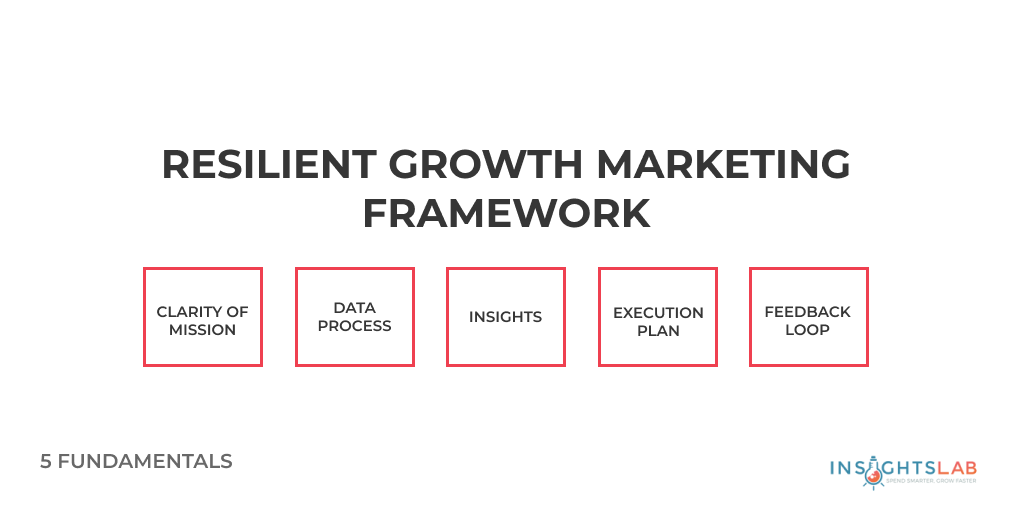 Clarity of mission
First of all, your long-term and short-term goals need to direct your course of action. Sounds obvious, right? Though some businesses fail to connect their goal planning efforts with their marketing efforts, you need to know what you want to achieve and why. Then you'll create a strategy that aligns with your goals.
Having a clear mission that connects to your marketing efforts helps to inform decision-making and set priorities. It also unites all parts of your business together, ensuring that everyone works as a part of a holistic system, not a separate item.
Strengthen your data capturing & reporting process
At Insights Lab, we can't imagine resilient growth marketing without using data as the primary information source. Your data capturing methods should paint a clear picture of consumer behavior, business operations, and test results. It's crucial to know what you are capturing and how you translate data into insights.
Keep in mind your business' mission and goals when you select tools and tactics. What's working for one company might not be the best solution for your business.
Here are some ways to capture useful information from your customers and target consumers include:
Customer research
Work to understand your customers' needs and preferences. It might be a good idea to distribute surveys and polls, use social media to ask for your follower's opinions, and involve customer support and sales.
Transactional data
Why is it essential to understand transactional data? It shows everything about how much, what's popular, who's buying, and how frequently. This information is the foundation of one of the most critical growth marketing metrics – CLV (customer lifetime value).
Online marketing analytics
Online marketing is an exhaustible source of quality data. Whether you run ads or use social media to inform people about your products, you can get new insights about your business's performance almost every day. 
For the digital brands that rely on a global audience, online marketing became an inseparable part of daily interaction with customers and the target audience. So now, there is no wonder that many founders rely on using this data to inform decisions and help the business reach its goals.
Assign responsibilities
Data analytics can be a time-consuming and daunting task. As your business grows, it's only natural to use more data metrics and source them from various channels. Ensure that at least one person (or a dedicated team if the company size allows) is responsible for checking multiple analytic tools and reporting each metric. Assigning this responsibility will make it easier to manage the data and interpret it for the rest of the company. 
Set up tools
"But my business doesn't have any online presence," you might argue. Well, if you have a website, you already have some data pouring in. And to track it, you need to have the right tools in place. They can be as basic as Google Analytics, or its privacy-friendlier counterpart Plausible Analytics, or more robust options like SEM Rush and Ahrefs. The point is that if you want to make the best use of your data, you need to have the tools that support it.
They offer tracking and data visualization that makes it easier to understand and interpret, even for new people. Over time, these tools help you see the trends that will help you finetune your strategy for the most output.
Improve your insights
But data means nothing just on its own. Its real value becomes obvious when you draw actionable insights from it. Not just some random conclusions and vanity metrics but ideas that can be implemented and used to drive results for your business.
Strength of insight refers to the quality of actionable conclusions drawn from the collected data. As a business owner, you always are the decision-maker and the person to sign off on the strategy, but you don't always grasp everything that your business data can illustrate.
This is why it can help an external opinion and a second pair of eyes go beyond the obvious. At Insights Lab, we use our 70+ marketing experience to advise and help understand marketing data better for ambitious and curious entrepreneurs like you.
Execution plan
So you have a strategy, even a resilient one. Now what? A strategy without an execution plan is like a Ferrari race car without an engine – cool to look at but useless.
You have a mission to drive your goals. You have data to explain how the tactics you choose will bring you closer to these objectives. Ask yourself: what do these insights say about where we are, how we can go further, and how we can help customers better, and how can we use these answers to increase our success?
The 'how' is crucial to the execution of the resilient growth strategy
The 'how' is crucial to the execution of the resilient growth strategy. Not all tactics are the same, and choosing the right one can make a significant difference in reaching your goals faster. If you are not sure of the optimal way of getting there, you can use marketing experiments to know for sure. They eliminate all the guesswork and help you find the best options, and support your decisions with data.
Feedback loop
A feedback loop is a vital part of your resilient marketing framework. It allows you to see the effect (or lack thereof) of your efforts and know if the steps you've taken are working in the way you'd hoped. Having a feedback loop allows you to change strategy until you do see the necessary results.
The simple feedback loop looks like this:
Measure relevant data → analyze data → take steps to improve data based on insights gained.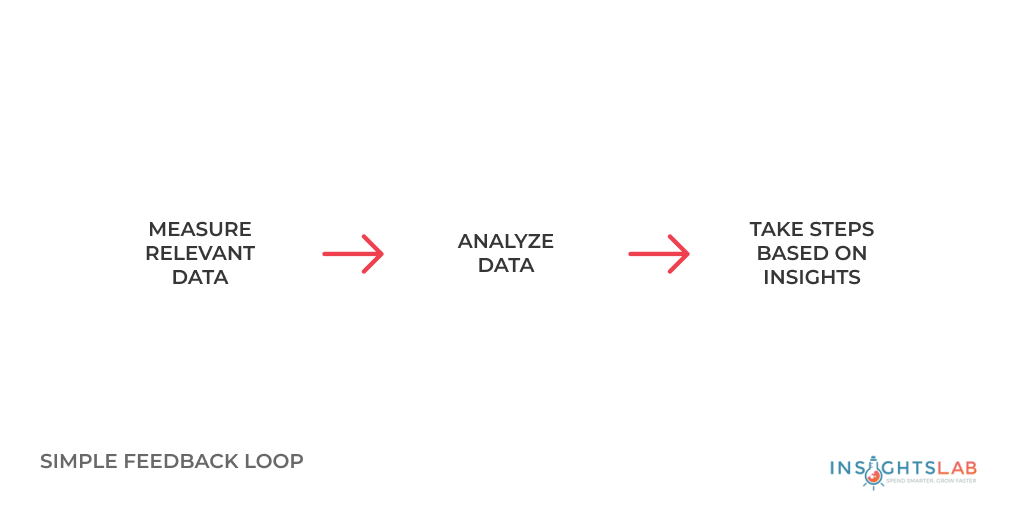 And the most crucial part of a resilient growth marketing framework is continuous improvement. You can (and should) repeat these steps again and again and measure the changes to find ways to help your business grow.