The changing times are reshaping the business and consumer landscape. This impact has been a real test and lesson in brand resilience. But challenges are an invitation to revisit strategies and take a smarter, data-driven approach. So our focus today will be on increasing product value. 
And as an example, let's take a look at a startup brand, Takeout Kit. 
Takeout Kit packages authentic world cuisine in a meal kit that foodies can easily prepare at home. All measure out non-perishable ingredients come with a recipe card. Each Takeout Kit is easy to store in the pantry – you can take it out when you feel like cooking. With 598 certified reviews, the proof is in the pudding! 
What makes Takeout Kit a resilient brand?
Leveraging word-of-mouth and an organic outreach strategy
People love to talk about how delicious a home-cooked meal is. Takeout Kit uses positive word of mouth and organic marketing to spread the word. That's why we love this first strategy so much! How do they do it? 
First, they use a review widget with easy access. Then there is an affiliate program that monetizes WOM (word of mouth). And, of course, PR to build credibility. Not only Takeout Kit rewards positive brand experiences, but it creates cravings for their meal kits, cravings that drive traffic and increase conversion rates.
They make referral marketing very easy by offering everything you need to spread the word:
If you're still not convinced, a 10% increase in word-of-mouth can translate into sales lifts between 0.2 – 1.5%. With the right approach, referral marketing can be a powerful strategy for growth marketing.  
How you can use it in your business:

 
Boosting traffic through referrals and PR is excellent. You can support it with customer stories sharing positive brand experiences. Once referrals land on your website, or even better, on your product pages, nudge them towards the sale with social proof.

There's nothing quite like a great customer story for the most influential PR
And the more visual, the better. Encourage users to tell their stories by submitting photos together with reviews or featuring them on your website. There's nothing quite like a great customer story for the most influential PR. 
Sold out products offer a link to recipes so you can DIY it
No meal kit, no problem. We love how Takeout Kit provides customer value with recipes they can follow while waiting for a sold-out product to re-stock. No delaying of gratification here!
How you can make use of it:
The DIY option can be valuable for all types of products. It is like telling customers, "if you don't want to buy now, here's how to make it. But if you want it faster and easier, we can provide this for you instead." Offering a DIY option for sold-out items is genius. Instead of providing access right away, you can take this opportunity to provide it in exchange for a sign-up. With valuable content, this could serve as a powerful, high-converting lead magnet.
Doing this hits two birds with one stone: it provides value even if you can't sell right now and grows your email list. DigitalMarketer says it best: The best Lead Magnet squeeze pages convert north of 50% of visitors into leads.
Imagine if you could convert half of your product page visitors into your email list. What would that be worth to you? And with something for customers to take away with them, they win too!
Takeaway Kit communicates USPs straight away on the home page and keeps them consistent everywhere
The Takeout Kit homepage says it all: travel the world with our quick and easy meal kits that last two months!
We love a brand that is clear about its USP and is consistent in its messaging. Takeout Kit has created a solid message that reinforces customer value from meal kit to table.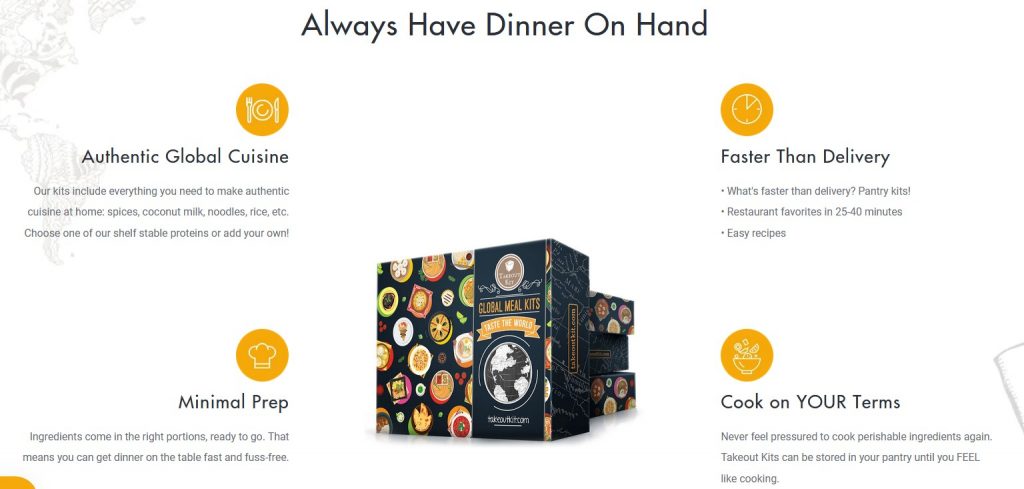 How you can do this, and take it up a notch: 
You know what makes your product unique. Repeat and highlight that value proposition throughout your website. Use visual cues and create a distinct brand experience. Takeout Kit already does an excellent job of playing up the "global experience." They can amplify that on their product pages by using more experiential media such as stories, videos, and photos that appeal to a sense of wanderlust.
Takeout Kit teaches us the power of organic marketing, valuable content that fills gaps in inventory, and consistent communication of unique selling points. These are all vital to brand resilience, but there's still room to grow as with every great strategy!