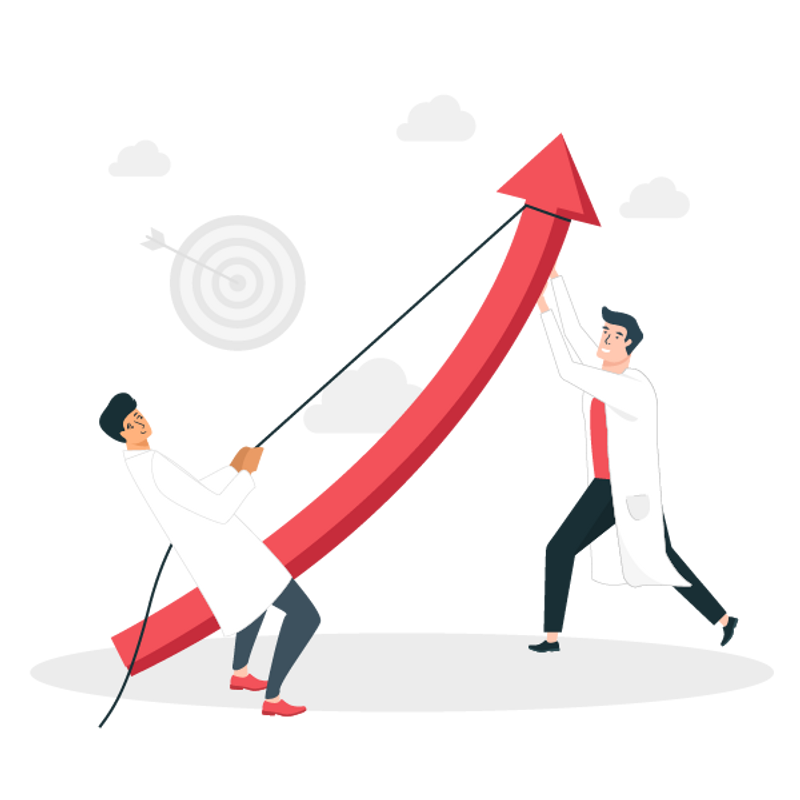 We don't reinvent your business. Rather, we improve & maximize your marketing efforts & your business growth plan.
You've built a successful business with passion and dedication. But somehow, you can't seem to surpass a certain level, no matter how hard you try. The business growth has stopped, and it's not as much fun as it used to be.
To stay competitive, you need to keep up with the times and make sure that your business growth plan is aligned with your business goals. However, it is incredibly time-consuming and expensive. Sounds familiar?
We've developed Growth Journey to help you reach new customers, grow revenue, and start getting the most out of your marketing technology, while, at the same time, setting your business up for lasting growth for many years to come. It's your business growth plan based on what works for you.
Every business is unique. This is why YOUR business deserves a growth strategy tailored to YOUR needs. In Growth Journey, we design a custom 12-month plan based on your context to help you reach 10x growth.
We believe that marketing is a strategic business function. In Growth Journey, we work with ambitious business owners to analyze foundations and create custom solutions that set you up for sustainable, lasting growth.
Then, we adapt it to your budget and help you figure out the best ways to spend your marketing dollars to accelerate your business. With a tailored business growth plan that suits you, not us.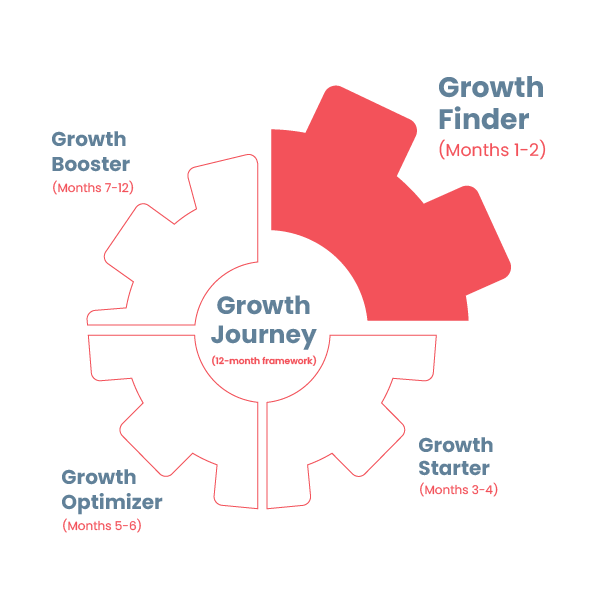 Growth Journey is perfect for you if:
Your long-term growth is our priority. With Growth Journey, you can expect 12 months of continuous support & advisory to get you tangible results with a cohesive framework to fuel your business growth.
Objective:
where to direct your immediate focus to get tangible results
Workshop:
core foundations of data monitoring = where to look for opportunities
Reporting:
in-depth analysis of your current status vs. expectations + actionable insights
Objective:
how to hit your next milestone
Workshop:
Tailored to your Growth Journey
Objective:
what processes to improve to prepare for your next spike in your growth
Workshop:
Optimizing internal data monitoring
Objective:
where to shift your focus for continuous improvement
Workshop:
Strengthen your brand positioning using data
Pay as you go
12 monthly payments
It's for you if:

Your marketing budget doesn't allow you to bring in a CMO

You prefer to see how things pan out

You are looking for the right fit who really listens to your objectives
It's for you if:

You prefer to get financially rewarded for your commitment

You are determined to have continuous growth

You are looking for a trusted partner to support your team
Growth Journey will give you:
Our guarantee covers YOU:  you are welcome to leave any time after your second month if we are not delivering results for you. We are THAT confident in our framework and our non-agency approach.
Frequently Asked Questions
Uncover the insights that will drive your success
Insights Lab is all about YOUR business growth. We do the heavy lifting so you can focus on what matters. Our strategists have created and guided successful marketing & growth strategies for small businesses, Fortune 100 companies, global brands, and even government agencies. And when we say "business growth," we mean it.