Grow Your Business Example: Our Place Tells the Story Behind Every Unique Meal
Cooking up fresh ideas to grow your business is a recipe for resilient growth—but it's not without its challenges! We're serving up inspiration with our series of blog posts featuring brands that demonstrate effective strategies. With examples of best practices, we'd like to inspire you to consider these techniques and tailor them for your business.
Today, we take you into the culinary world of Our Place.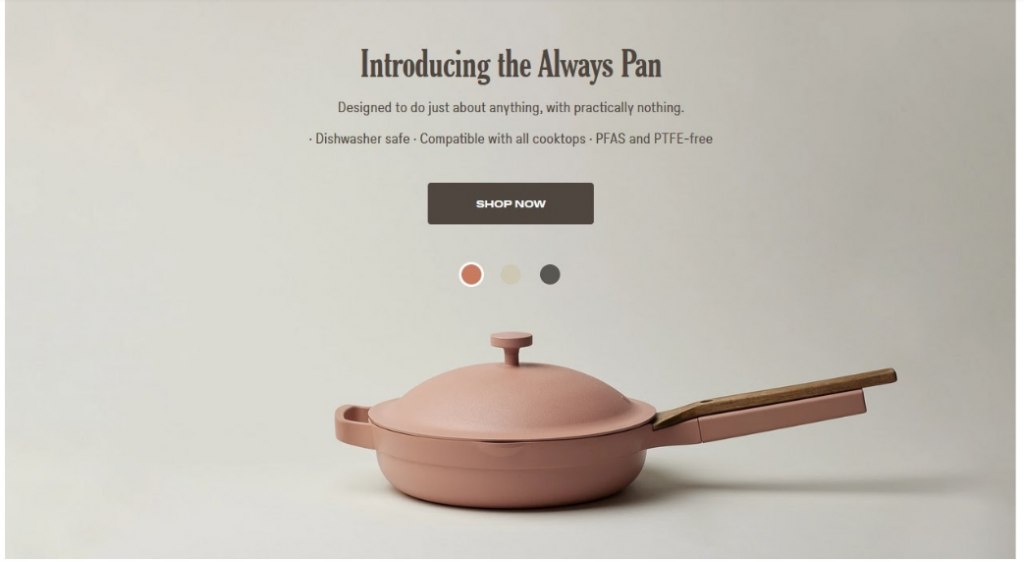 As a kitchen and tableware brand, Our Place transcends the functional aspect of objects that are deeply ingrained in our daily lives, and takes them back to the core of every dining experience: community. The brand's product line is highly-curated, thoughtfully-crafted, and above all value-driven. Our Place's multifunctional cooking pans, plates, bowls, drinking glasses, forks, and spoons—all rendered in a clean, minimal aesthetic that acts as the perfect foil to the cultural diversity and unique stories of the people who use them—reminds us that food is identity and every opportunity to take out the tableware is an act of culture and connection.
What makes Our Place stand out as a resilient brand?
1. Consistent messaging around their brand and business mission
We love this brand's clarity of mission, which is the first pillar of our Resilient Growth framework. Throughout its website, Our Place consistently communicates the value of "connection through meals," a copy point normally reserved for the Mission Page. With every page click, shoppers will find stories of different families and their treasured food traditions, as well as customer reviews for the product on display.
How you can implement this, and take it up a notch:
Storytelling provides an effective, not to mention organic, way to communicate your business and brand values in a manner that resonates with people. Stories not only sell, they humanize a brand. Find a story angle in your mission or brand and highlight it across your communications to create a consistent narrative, bringing it front and center in your product pages and social media accounts.
2. A Catchy Sign-up Offer.
Why offer a discount code when you can offer something more enticing like a free product? With many ecommerce stores offering discounts and coupons, asking for a first-time visitor's email is getting harder and harder these days. Raffling off a freebie in exchange for a sign-up accomplishes many things:
●  You stand out among every other brand dishing out discount codes—and as a result stand out in the minds of customers.
●  Depending on COGS, logistics, and sign up rate, raffling off just one freebie a day might actually bring your cost of acquisition down compared to giving a discount code to everyone.
●  People love to post about free items received. As they share online, you earn social media mileage for free. Provide them with a unique hashtag and receive a steady stream of user-generated content daily. Not to mention, prospective customers will be enticed to sign up as well!
How you can do this, and take it up a notch:
Consider your costs versus signup rate, and decide whether this is viable for your business. You may also leverage on peak traffic season around holidays like Christmas and Black Friday, and plan promotions around these.
3. An "authentic" Instagram feed

Highly stylized images have come to define the Instagram aesthetic. Our Place takes the platform back to real-life, less-than-perfect imagery. With posts featuring real people loving the products, it is at once refreshing, engaging, and authentic. This of course aligns with the brand's mission and their knack for storytelling that highlights community members, founders and users, and above all, the socio-cultural significance of food.
How you can do this, and take it up a notch:
Ask yourself, how can your brand show up authentically? A brand that lends itself well to social media through visuals and captions that tell an engaging story is a great place to start. Anchor this on a solid brand value and you'll find it will be easier to start genuine conversations. The result is a social media presence that engages with people like other brands don't.
Our Place's value-driven strategy reminds us that brands must ultimately be of genuine value to customers, no matter how utilitarian your product is. Take a cue from the brand, employ a Founder's Mindset, and highlight your reason-to-believe across your communications. Eventually, your products will carve a place in people's homes and in their hearts.
Take actionable steps to growing your brand today! Get answers to your most urgent questions by taking our Resilient Growth Checkup. Find out how ready you are for resilient growth marketing and identify the biggest road blocks to your business growth and how to solve these.
Or if you want to take it up a notch with predictable, profitable growth, check out our Growth Finder!